Ask Your Pharmacist For MetaQil® and Get a 20% Rebate!
MetaQil® is now available at your favorite Pharmacy!
How to get your rebate:
Bookmark or add this page to your favorites to easily return
Use the map below to find a pharmacy near you
Purchase any size bottle of MetaQil® at your favorite pharmacy
Take a photograph of your receipt
Submit your contact information and the photo of your receipt via the form below
You'll receive your rebate via mail within 60 days of your request, to the address you provide below
First of Its Kind Product to Alleviate Metallic Taste
If you have persistent metallic taste in your mouth, it is likely caused by medications, chemotherapy, radiation or certain health conditions. MetaQil
®
can help relieve the symptoms of metallic taste and make your mouth feel refreshed and normal again.
Instant relief
Mild flavor does not burn your mouth
Refreshes your palate and slightly cools your mouth
Safe Ingredients
Made in the USA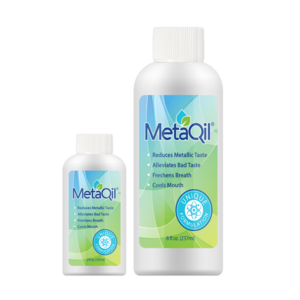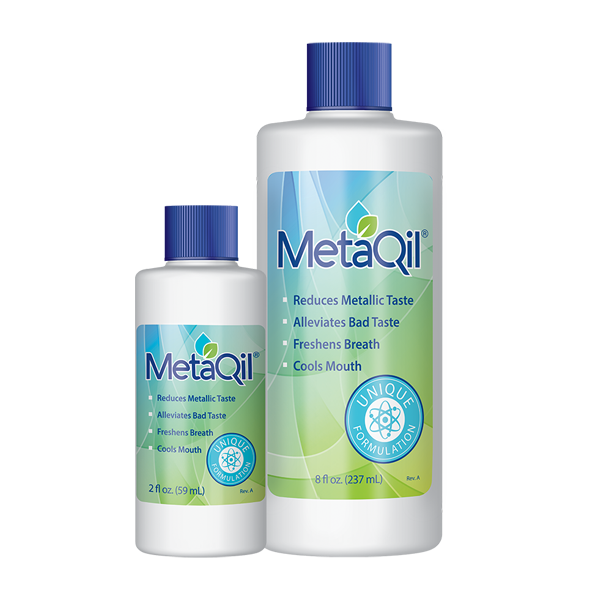 MetaQil Rebate Guidelines
MetaQil purchase of any size bottle must be made in-person at a pharmacy (online pharmacies are not acceptable)
Cannot be combined with other rebates
Rebates are requested via metaqil.com and paid via check in US dollars
Rebate checks are made out to the name provided on the website form
Proof of purchase required when submitting the website rebate form
Purchase must be made on or after September 1, 2020
Rebates must be claimed by December 31, 2020
Please allow approximately 4-6 weeks for rebate processing
MetaQil reserves the right to deny any rebate request if it is determined that a customer is abusing the rebate system or has engaged in fraud.

Questions or problems? Please contact the MetaQil Customer Service Team at (866) 265-6105 or (716) 204-7215