Start the new year without metallic taste!
All of us at MetaQil wish you a happy and healthy New Year! Don't let metallic taste stand in the way of your resolutions!
Use the code below to get 60% OFF your order of the package of 36!
Should you Ignore Metallic Taste?
Taste alterations like metallic taste (medically known as dysgeusia) are often caused by medical conditions and treatments. Metallic taste is usually a side effect of many prescription and over-the-counter drugs. Another common cause is the chemotherapy and radiation during cancer treatment. Some diseases and injuries may also cause taste alterations.
If you or your loved ones have experienced metallic taste, you know how bad it can impact your everyday life. Persistent unpleasant taste in your mouth can lead to the loss of appetite and inability to eat. Even your favorite foods may taste like metal or have other unpleasant flavor when you're experiencing taste alterations.
As a consequence, you may be at risk for nutrient deficiencies, weight loss and decreased energy.
MetaQil® Relieves Metallic Taste
We designed MetaQil specifically for metallic taste relief. MetaQil is a new product that gently alleviates the symptoms of metallic taste and restores a fresh feeling in your mouth. It is a simple mouth rinse that can be used up to 3 times a day or as needed. It has a mild flavor and doesn't burn like typical mouthwash.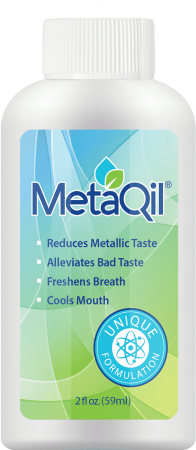 Our Customers' Experience
Read the reviews provided by our customers through Facebook
I haven't been able to eat or even drink water for 2 weeks. Ive searched high and low and spent quite a bit trying products. I got my 2 oz bottle today and tried it. For the first time I was able to drink water and my nutrition drink without throwing up from the nasty metal taste. You have saved me from having to have a feeding tube put in. THANK YOU.....

Derek W. Crow


8/31/2018

My mom is terminally ill and couldn't eat due to the metallic taste in her mouth. As I was searching the internet looking for some foods that she would be able to maybe taste, I came across this product! After reading about it, I decided to order her a bottle. Needless to say, my mom has been able to eat the past two days because of Metaqil!!! I highly recommend this to anyone that is having the same problem with their taste!

Stephanie Fulkerson


7/11/2018
Most frequent questions and answers
If you have any questions, concerns, or would like to offer feedback, don't hesitate to reach out to us! We love our customers and love to hear their stories.
485 Cayuga Rd,
Buffalo, NY
14225
Hours:
Monday – Friday
9:00 a.m. – 5:00 p.m. ET