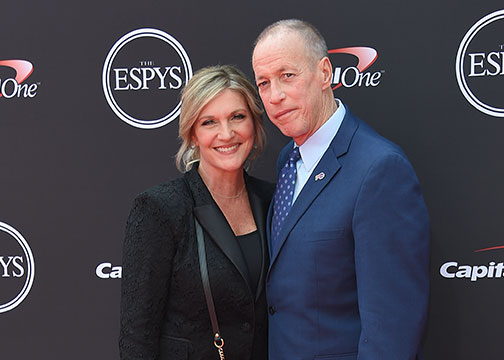 As a company rooted in Western New York, we have an immense feeling of pride when it comes to our community. An environment surrounded with support, love, and good neighbors, Buffalo is lucky to be the home of Jim Kelly, the retired Buffalo Bills quarterback that just so happens to be the recipient of the Jimmy V Award at the ESPYs in Los Angeles this year.
For those who don't know of Jim Kelly, he is a beloved figure in the Buffalo community, for his wonderful career in the NFL and for his participation in the rise of Buffalo, New York. The city also followed his family's battle of losing their son, Hunter at the young age of 8 due to Krabbe disease. Hunter's Hope Foundation came as a result, offering Buffalo even more support for families undergoing the same strife that the Kelly family did.
Jim Kelly, only 58, has battled cancer for nearly 5 years after a diagnosis of squamous cell carcinoma in the jaw in 2013. The cancer has come and gone within the past few years, again returning earlier this year, rocking the Buffalo community and flooding the Kelly family with hopes for a quick recovery. Jim was recently awarded the Jimmy V Award at the ESPYs, hosted by ESPN to award athletes for their humanitarian achievements. The Jimmy V Award is given to an individual who exudes perseverance, something that Jim has certainly done throughout the years and especially during his cancer diagnosis.
His acceptance speech moved the entire crowd, and was focused on our ability to make a difference in others' lives, no matter our status. He said, "Make a difference today for someone who is fighting for their tomorrow." We don't have to be a famous individual with tons of money in order to make a simple difference. It's in our words and actions that this beauty can be found. We are so proud to have someone as inspiring as Jim Kelly as a part of our community. Congrats, Jim!
MetaQil mouth rinse alleviates metallic taste in the mouth, providing long-lasting comfort and relief.
While there currently is no permanent solution to eliminate metallic taste, MetaQil® has made it easier to temporarily alleviate it. The solution is safe, quick, and convenient to use.