ARE YOU EXPERIENCING THESE SYMPTOMS?
ammonia breath  |  battery acid taste  |  old penny taste  |  funny taste  |  bitter taste  |  cough to taste metallic  |  gross taste  |  strange taste  |  chalky taste  |  tin/tinney/tinnie taste  |  iron taste / taste of iron  |  salty taste  |  medicinal taste  |  copper taste  |  sour taste | foul taste

POSSIBLE CAUSES?
taking lithium; Chemotherapy; anti-epileptics/anticonvulsants; Antibiotics; sleeping pills; zinc deficiency; kidney issues/disease; high blood sugar; Dialysis; insect bites; Sjogrens; Diverticulitis; heart attack/stroke; Cancer Meds; surgery; Antipsychotics; Antimuscarinics; Rheumatoid Arthritis; balsamic vinegar; poisoning, Celiac, blood pressure medications; Vitamin B12; nuclear stress test; Antidepressant, Sedatives; Botulism; antituberculosis medications; Diverticulosis; Antacids; Immunosuppressive Drugs; hypothyroidism; nerve damage; Potassium Chloride; liver disease;
You may be experiencing Dysgeusia.
Dysgeusia, also known as parageusia, is a distortion of the sense of taste. Dysgeusia is also often associated with ageusia, which is the complete lack of taste, and hypogeusia, which is a decrease in taste sensitivity.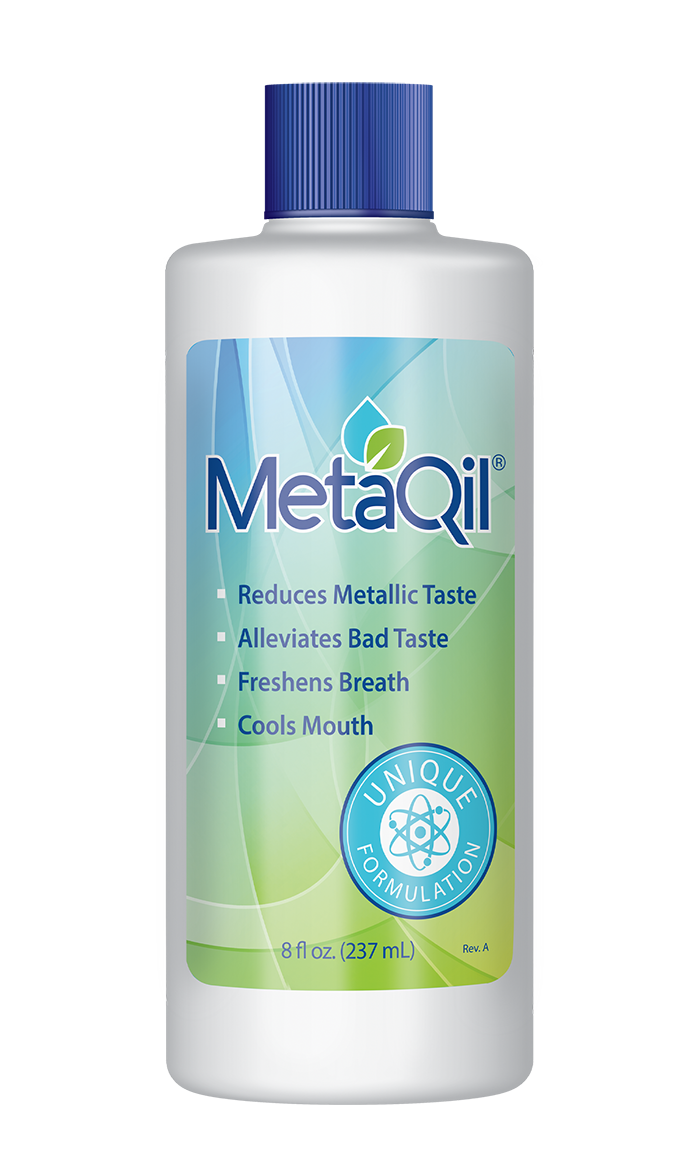 Let MetaQil Help Today!
If you have persistent metallic taste in your mouth, it is likely caused by medications, chemotherapy, radiation or certain health conditions. MetaQil® can help relieve the symptoms of metallic taste and make your mouth feel refreshed and normal again.
Our Customers' Experience
[wprevpro_usetemplate tid="1"]