First-of-its kind metallic taste
oral rinse
MetaQil's scientifically designed formula alleviates metallic taste caused by chemotherapy, GERD, Acid Reflux, Covid-19 and a variety of medications. 
MetaQil gently cools the mouth and provides instant, long-lasting relief from metallic taste symptoms. It has a mild flavor and does not "sting" the mouth like an every-day mouthwash. Regular use of MetaQil can help patients return to healthy eating and adequate nutrient intake.
What do customers say about MetaQil Metallic Taste Oral Rinse?
This works well to rid the metal and dirt taste my mom gets after her chemotherapy treatments.
I really feel that MetaQil helps with the bitter taste that I am experiencing. I usually use it 2 to 3 times a day and notice relief instantly
The patients I have provided samples to so far have said MetaQil helped to mute the metallic taste they were experiencing, did not normalize their taste perception but did help to make things more palatable so they could eat more! All have gone on to purchase some.
It seems to help about half of the patients that I sample with dysgeusia. IT gives them about 5-10 minutes in which they can taste foods which is huge for them.
Most of my patients report they are satisfied with the level of relief they receive from the product.
I've been dealing with a metallic taste in my mouth for over 5 months now. I've used about a week now, and it's made BIG difference. Not enough that it's gone away, but it's really much better. I would highly recommend it!
Tried every remedy out there for metallic taste in mouth and this actually WORKS!!!! So glad I ordered it, works almost immediately, after 1-week metal taste had gone away.
Check out our latest blogs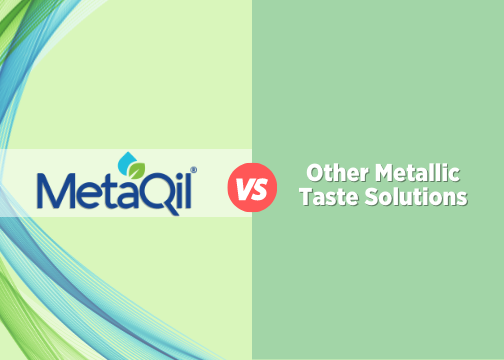 Blog
MetaQil vs. Other Metallic Taste Solutions Metallic Taste, also known as dysgeusia, is a symptom
Read More »