Metallic taste is a taste disorder medically known as dysgeusia. It is an abnormal, impaired sense of taste, or an unpleasant alteration of a taste sensation. Those who are affected often describe the condition as having a persistent metal, rancid, sour or bitter taste.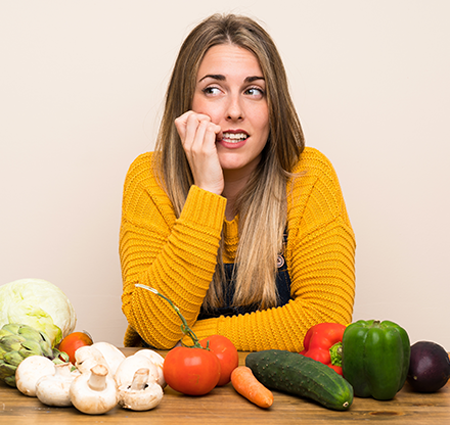 Metallic Taste is a Persistent Sensation of Sour, Bitter or Metal Taste in the Mouth
While eating certain pungent foods such as onions, garlic, fish, etc., you may experience a temporary metallic taste, this is not considered dysgeusia.
Typically, the flavors of foods do not affect your taste or create metallic taste symptoms. Metallic taste is when you experience a persistent, altered sense of taste due to factors including chemotherapy, radiation, COVID-19, medication, or GERD.
However, metallic taste can affect the way your food tastes, leading to poor nutritional choices. People with metallic taste tend to over season foods or choose saltier, spicier, or more sugary foods. This nutritional change can lead to other health complications or problems.
Problems as a Result of Metallic Taste
Metallic Taste may Lead to Poor Nutrition
People with metallic taste often have aversions to certain foods because foods taste different or unpleasant. As a result, people may eat less overall or make poor food choices in general. To mask unpleasant tastes, dysgeusia patients often choose to eat saltier and overly sweet foods. As a result, an increased intake of sodium and sugar may cause complications and negatively impacts overall health. One study showed that some patients may also start drinking water more. This creates a risk of polyuria, incontinence and higher risk of falls in the elderly.
Usually, metallic taste treatment focuses on resolving the underlying cause, such as COVID-19 or poor oral hygiene. However, it may be difficult to change a patient's routine. Some causes of taste changes are hard to remove. For example, some medications, like those for blood pressure, are not easy to switch without the risk for other health problems.
In many cases, metallic taste may take a long time to go away. MetaQil is the only oral rinse scientifically designed to relieve altered taste symptoms and restore your normal sense of taste.
We understand the discomfort that persistent taste changes may cause. That's why we developed MetaQil, a product to relieve dysgeusia symptoms. MetaQil is a simple mouth rinse that provides comfort without interfering with necessary medications and a healthy diet.
Ask Your Doctor or Dentist if they Have Free Samples....or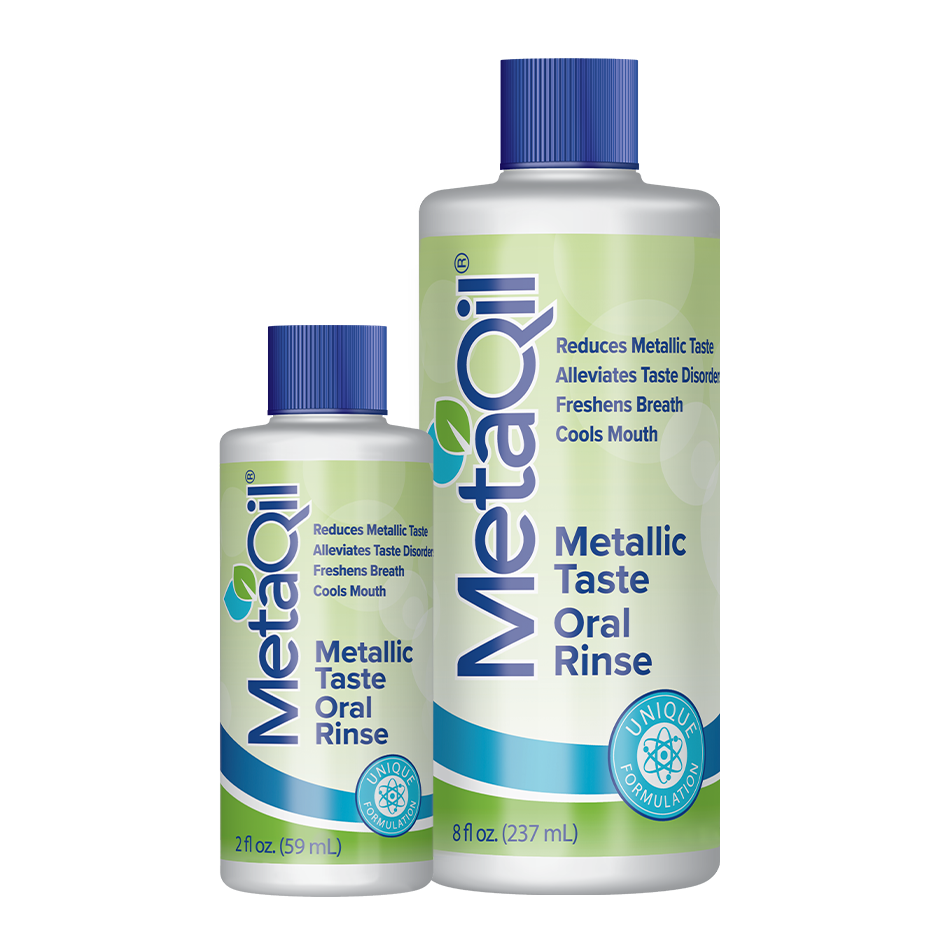 MetaQil has helped thousands to Restore their Taste!
MetaQil is a first-of-its-kind product scientifically designed to alleviate metallic taste. MetaQil freshens breath and cools your mouth with no stingy feeling. Our innovative ingredients cool the mouth and provide instant, long-lasting relief and comfort for metallic taste symptoms.