MetaQil Metallic Taste Rinse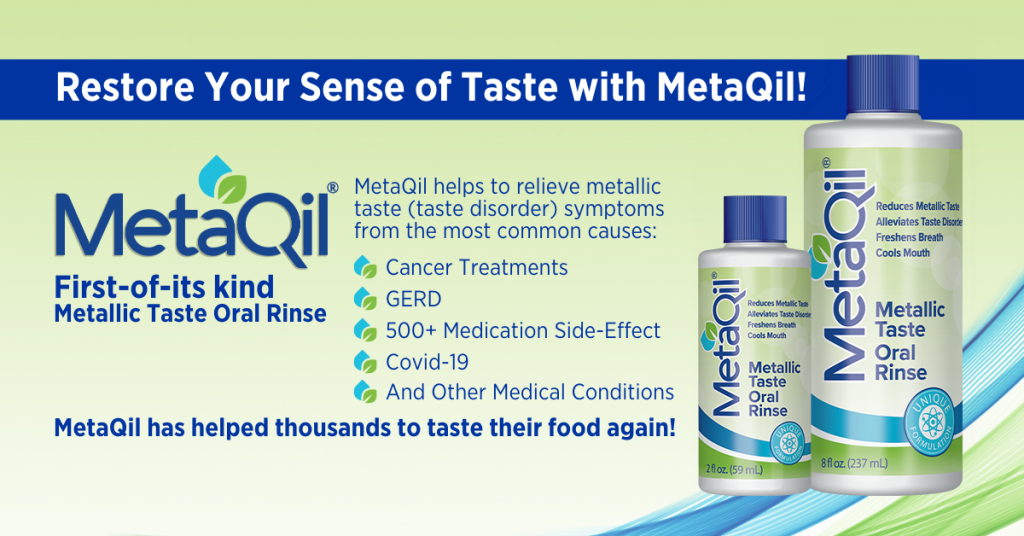 We hope that MetaQil and HSN, together, will be able to improve the lives of many. Since oral and systemic health are deeply intertwined, superb oral hygiene is vital.  
Why is Metallic Taste a Problem?
Metallic or altered taste can leave people feeling oral discomfort and can cause poor nutrition. In order to satisfy cravings while experiencing metallic taste, people often choose saltier, spicier, or more sugary foods. As a result, this may lead to a deficient diet. However, MetaQil contains a unique blend of natural ingredients that can help your sense of taste return to a normal health state, so you can start enjoying the foods you love again!  
MetaQil is a one-of-a-kind mouth rinse with several unique ingredients that will significantly reduce and eliminate the symptoms of altered taste, loss of taste and metallic taste (also known as dysgeusia). These symptoms are associated and caused by several health-related issues such as: 
Chemotherapy and radiation treatments 

 

Medications

 

Alzheimer's, Dementia, Parkinson's

 

Dry mouth 

 

Auto-immune diseases, Sjogren's, Arthritis

 

COVID-19 symptoms (loss of taste and dry mouth)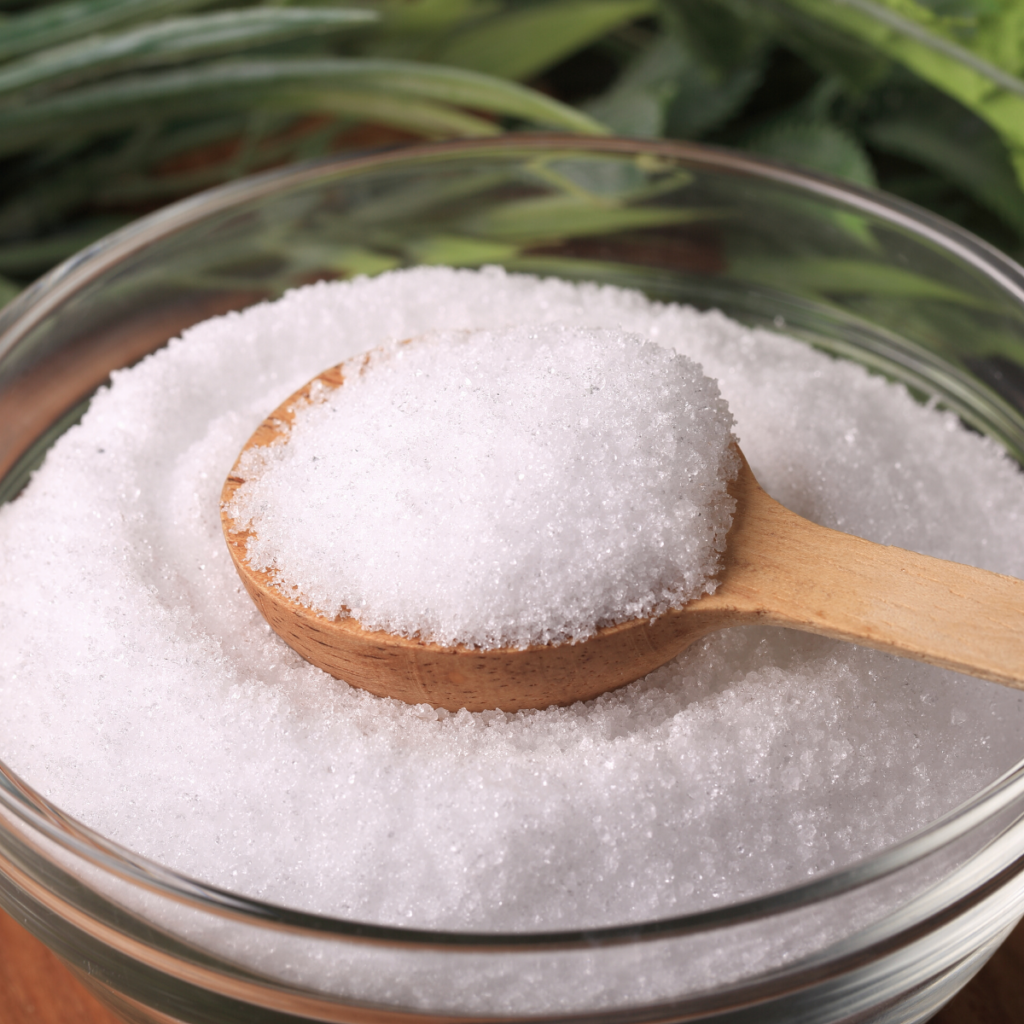 Some of our remarkable, simple ingredients are:
Xylitol: Natural ingredient that promotes a healthy mouth to prevent oral diseases, reduce bad bacteria in the mouth, and is safe for diabetics.

 

Spearmint: Essential oil that is a natural antibacterial agent.

 

Vitamin E: Natural antioxidant that soothes the mouth and can contribute to your oral health.

 

Monk Fruit: Fights age-related diseases, reduces inflammation, promotes healthy cholesterol levels, and is a natural antioxidant. Its low glycemic index is safe for diabetics to use as well.

 

Peppermint: Essential oil that eliminates metallic taste and stimulates energy to the brain.

 
The Home Shopping Network, as a worldwide promotional product business, will significantly benefit from providing MetaQil to your viewers. There is no other over the counter oral health care rinse that will remedy these taste complications.  
Our company has spent years developing oral health care products that are natural, safe, and effective. We take great pride in our ingredients and fully stand behind our product that has helped so many people.   
With systemic health issues rampant in our country, over 90% of all people that go to the doctor will leave the doctor's office with at least one, if not several prescriptions.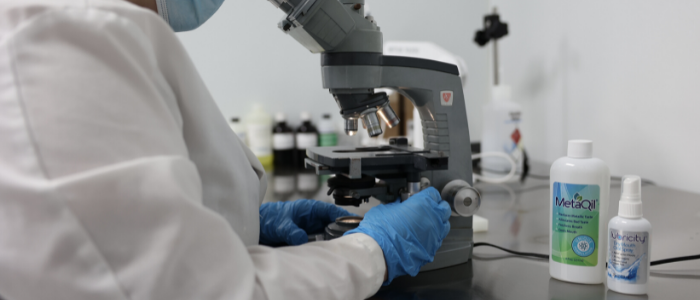 There are over 500 different forms of medications that cause metallic, altered or loss of taste. One in four people suffer from dry mouth symptoms which may lead to metallic, altered or loss of taste. 
As a result of COVID-19, we have all experienced a major health crisis together.  
Our company wants to help the Home Shopping Network promote our highly effective oral rinse that will have an immense positive impact by improving the quality of life for your viewers.  the Home
Together, we can help others by encouraging them to maintain their oral and overall health! 
MetaQil #1 Metallic Taste Oral Rinse
MetaQil is the #1 solution for symptomatic relief of metallic taste. MetaQil's scientifically designed formula alleviates metallic taste caused by chemotherapy, GERD, and a variety of medications. MetaQil gently cools the mouth and provides instant, long-lasting relief from metallic taste symptoms. It has a mild flavor and does not "sting" the mouth like an every-day mouthwash. Regular use of MetaQil can help patients return to healthy eating and adequate nutrient intake.
85% of participants in a clinical study preferred MetaQil as a remedy for metallic taste
For best results, use approximately 5 ml (one teaspoon) of MetaQil®, rinse for 30 seconds, and spit out. MetaQil can be used on an as-needed basis. Use alone or after each time you brush your teeth
Important: If you are pregnant or breastfeeding, please consult your physician before using MetaQil. Do not use MetaQil if you are taking any medications that are contraindicated with the product. Please consult with your physician if you have any concerns regarding the use of this product. Keep out of reach of children.
What do customers say about MetaQil Metallic Taste Oral Rinse?
This works well to rid the metal and dirt taste my mom gets after her chemotherapy treatments.
I really feel that MetaQil helps with the bitter taste that I am experiencing. I usually use it 2 to 3 times a day and notice relief instantly
The patients I have provided samples to so far have said MetaQil helped to mute the metallic taste they were experiencing, did not normalize their taste perception but did help to make things more palatable so they could eat more! All have gone on to purchase some.
It seems to help about half of the patients that I sample with dysgeusia. IT gives them about 5-10 minutes in which they can taste foods which is huge for them.
Most of my patients report they are satisfied with the level of relief they receive from the product.
I've been dealing with a metallic taste in my mouth for over 5 months now. I've used about a week now, and it's made BIG difference. Not enough that it's gone away, but it's really much better. I would highly recommend it!
Tried every remedy out there for metallic taste in mouth and this actually WORKS!!!! So glad I ordered it, works almost immediately, after 1-week metal taste had gone away.