MetaQil vs. Other Metallic Taste Solutions
Metallic Taste, also known as dysgeusia, is a symptom often caused by cancer therapy, GERD, acid reflux, Covid-19, medication side-effects, vitamins, and more. Metallic Taste can get in the way of normal living by either developing food aversions or desire to consume spicy and sweetened foods. Dysgeusia can disrupt one's quality of life to a point where they stop enjoying their normal lifestyle.
A person who is suffering from metallic taste may be using first hand remedies such as oral rinse, gum, or lozenges, but eventually metallic symptoms may come back, and they will not get any relief from metallic taste. Some home remedies can also help with metallic taste, but these do not provide immediate relief, and may take weeks to see the slightest results. MetaQil is an oral rinse scientifically designed to immediately alleviate Metallic Taste Symptoms.
In this article, we have compared MetaQil Metallic Taste Oral Rinse to other products. MetaQil is the first-of-its-kind product to alleviate metallic taste. It can help relieve symptoms of metallic taste, leaving your mouth feeling refreshed and normal again.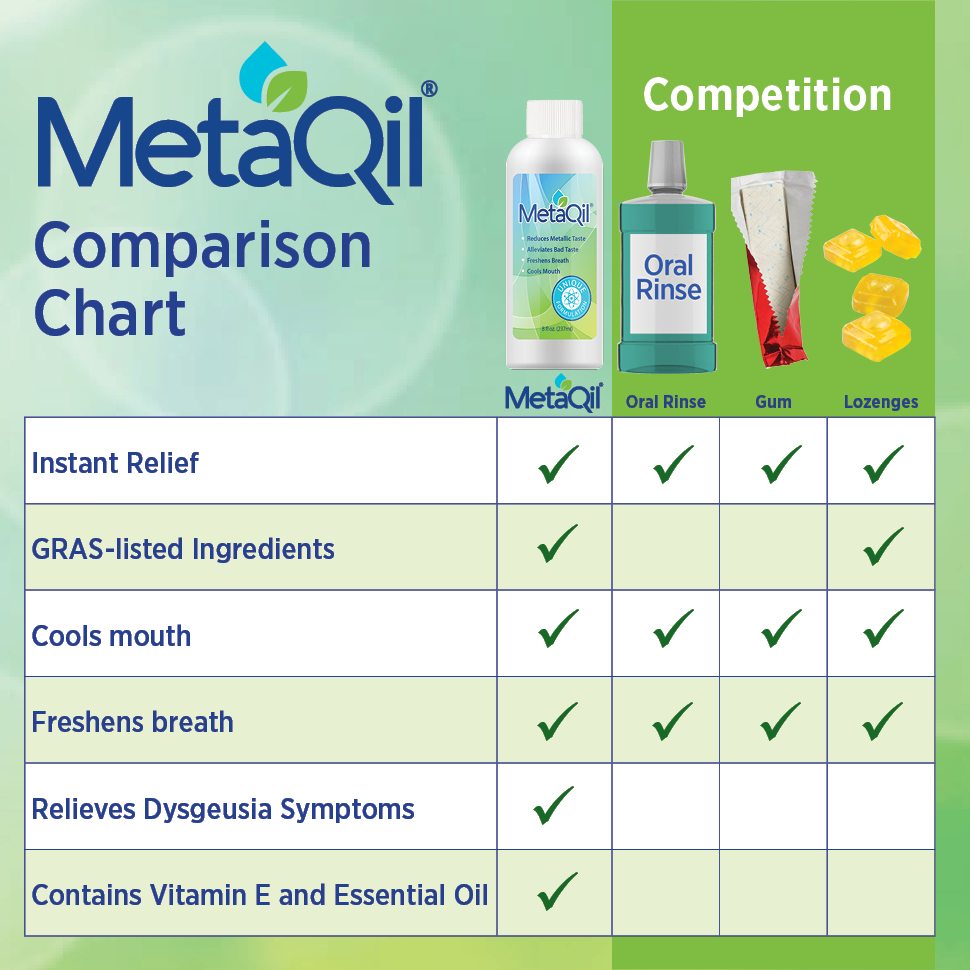 Our solution effectively alleviates any persistent unpleasant taste in your mouth right after use.
MetaQil uses natural, safe ingredients such as, water, essential oils, xylitol, and vitamin E. All ingredients are generally recognized as safe (GRAS) by the FDA.
Monk Fruit Extract – MetaQil is uniquely formulated with a natural sweetening agent

Spearmint and peppermint oils – has cooling and healing properties

Citric Acid – derived from citrus fruits
Menthone glycerin acetal – a natural mint derivative with soothing and cooling properties
Vitamin E – an antioxidant
Xylitol – a non-cariogenic carbohydrate sugar alcohol
Sodium Citrate – a salt derived from citric acid
MetaQil refreshes your palate and slightly cools your mouth.
MetaQil has a very mild flavor and does not burn the mouth.
Relieves Dysgeusia Symptoms:
Currently, MetaQil is the only product on the market designed specifically for metallic taste (dysgeusia) relief.
Contains Vitamin E and Essential Oil:
Spearmint and peppermint oil have cooling and healing properties and are scientifically proven to comfort taste disorders. These ingredients mask metallic taste, bitterness and other unpleasant tastes within the mouth. Vitamin E is an antioxidant and may protect your cells against free radicals.
Metallic Taste Oral Rinse
Get your taste back
with MetaQil!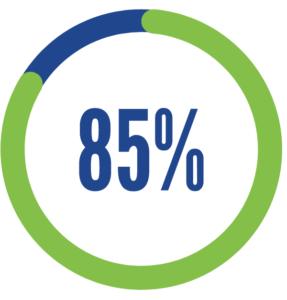 If you are looking for a simple, natural, and effective metallic taste solutions, MetaQil is your best choice. MetaQil is an innovative oral rinse scientifically designed to help alleviate metallic taste symptoms. Regular use of our innovative rinse cools the mouth, providing long-lasting comfort and fresh breath to those afflicted by taste disorders due to chemotherapy or radiation, medications, GERDs (acid reflux), and other medical conditions. MetaQil helps you return to eating healthy, nutritious foods and improves your quality of life. Our 2 oz. bottle is perfect for traveling or when you are on the go and is TSA approved.
85% of participants in a clinical study preferred MetaQil as remedy for metallic taste
MetaQil #1 Metallic Taste Oral Rinse
MetaQil is the #1 solution for symptomatic relief of metallic taste. MetaQil's scientifically designed formula alleviates metallic taste caused by chemotherapy, GERD, and a variety of medications. MetaQil gently cools the mouth and provides instant, long-lasting relief from metallic taste symptoms. It has a mild flavor and does not "sting" the mouth like an every-day mouthwash. Regular use of MetaQil can help patients return to healthy eating and adequate nutrient intake.
For best results, use approximately 5 ml (one teaspoon) of MetaQil®, rinse for 30 seconds, and spit out. MetaQil can be used on an as-needed basis. Use alone or after each time you brush your teeth
Important: If you are pregnant or breastfeeding, please consult your physician before using MetaQil. Do not use MetaQil if you are taking any medications that are contraindicated with the product. Please consult with your physician if you have any concerns regarding the use of this product. Keep out of reach of children.
What do customers say about MetaQil Metallic Taste Oral Rinse?
This works well to rid the metal and dirt taste my mom gets after her chemotherapy treatments.
I really feel that MetaQil helps with the bitter taste that I am experiencing. I usually use it 2 to 3 times a day and notice relief instantly
The patients I have provided samples to so far have said MetaQil helped to mute the metallic taste they were experiencing, did not normalize their taste perception but did help to make things more palatable so they could eat more! All have gone on to purchase some.
It seems to help about half of the patients that I sample with dysgeusia. IT gives them about 5-10 minutes in which they can taste foods which is huge for them.
Most of my patients report they are satisfied with the level of relief they receive from the product.
I've been dealing with a metallic taste in my mouth for over 5 months now. I've used about a week now, and it's made BIG difference. Not enough that it's gone away, but it's really much better. I would highly recommend it!
Tried every remedy out there for metallic taste in mouth and this actually WORKS!!!! So glad I ordered it, works almost immediately, after 1-week metal taste had gone away.