Referral Program for Professionals
Thank you for your interest in our complementary MetaQil Samples & Patient Discounts.
To learn more about MetaQil, click here.
Offer your patients something more!
Our MetaQil Referral Program is designed to help you and your patients get the most out of MetaQil Metallic Taste Oral Rinse!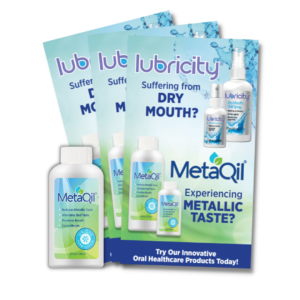 By registering you will receive:
FREE Patients Coupons (Digital & Hard Copy)
Special Sample Offers
Complimentary Samples of Lubricity
Downloadable Patient Materials
Monthly Newsletter about Dysgeusia and MetaQil® 
What is the registration process?

You can also call the MetaQil Customer Care Team at 1-866-265-6105 to place a request.
Call 1-866-265-6105 to request 1 case (25 bottles) of Sample Size MetaQil Bottles for your patients.
Mention promo code "RPPSpecial" and pay just $9.99 for processing and shipping for every case. 
The patients I have provided samples to so far have said MetaQil helped to mute the metallic taste they were experiencing, did not normalize their taste perception but did help to make things more palatable so they could eat more! All have gone on to purchase some.
It seems to help about half of the patients that I sample with dysgeusia. IT gives them about 5-10 minutes in which they can taste foods which is huge for them.
Most of my patients report they are satisfied with the level of relief they receive from the product.
I've been dealing with a metallic taste in my mouth for over 5 months now. I've used about a week now, and it's made BIG difference. Not enough that it's gone away, but it's really much better. I would highly recommend it!
Tried every remedy out there for metallic taste in mouth and this actually WORKS!!!! So glad I ordered it, works almost immediately, after 1-week metal taste had gone away.